In high school I told my mom I had been doing an at-home workout program. Ecstatic for me, she asked how long I had been participating, but, admittedly, I had only started that morning. Though I had every intention to keep up, of course I didn't, and that plan faded into history like all the ones before. My scrawny self flailed throughout the next decade.
Physical activity has never been my strong suit.
Darebee.com offers simple, doable, daily workout plans for the average joe to get started on the pathway to transformation. Yesterday, my delicate toes graced upon that road, and my abs got a brutal wake-up call after 29 years of laying low. The only six pack I've ever had has been full of beer, and every IPA, Pale Ale, and Breakfast Stout came back with vengeance as I suffered through a mere six reps of inverse crunches.
Now, on day two, I am a frightened child anticipating the spanking sure to come. After today's workout, I'll certainly put my butt to the mirror to spot the red marks through tear-filled eyes. I do realize that in order to get from point A to point Z, I have to brave B through Y. Every torturous session of rolling around on the carpet and spinning my legs like a freakin' helicopter while a beginner's workout hammers a chisel on my stomach and I pant heavier than a pitbull on a hamster wheel, (shoot–where was I? Oh yeah…) is an important step toward achieving my end goal. I guess this is the idea Tori Amos was talking about when she said,
"Sometimes you have to do what you don't like to get to where you want to be."
So, this post marks week one of my thirty day workout plan. Hopefully, by sharing this with you, I can commit to the journey. Because I'm not thrilled to share shirtless transformation pictures or flexing mirror-selfies, I'll post the perception I have of myself by means of a gif (sorry about the clickbait if you wanted to see me shirtless).
Without further ado, here is me before as George Michael Bluth: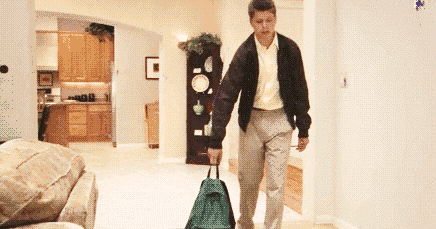 If you're interested in joining me on 30 days of physical activity, check out Darebee.com, pick a plan, and let me know! Post a gif of how you feel. 
---
Photo by Andrew Neel on Unsplash